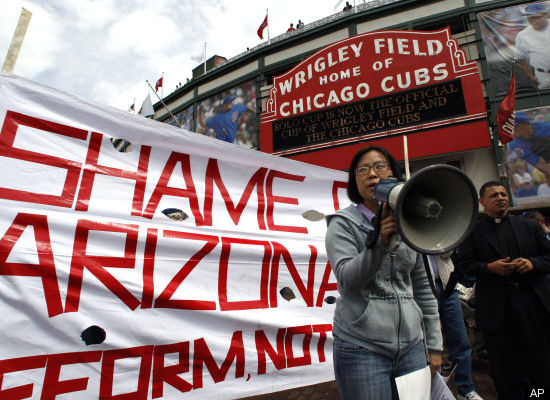 Local immigration activists and supporters will march from Charlotte's Marshall Park to the Mecklenburg County jail tomorrow to protest the Mecklenburg County sheriff's 287(g) program and a new Arizona state law that criminalizes illegal immigration.
The rally will begin at 11 a.m. It's one of many such protests around the country that have stolen the spotlight from many other issues this week.
The Arizona law defines illegal immigration as trespassing and allows local law enforcement agencies to question people they suspect of being undocumented.
On Thursday, protesters rallied outside Wrigley Field in Chicago, where the Arizona Diamondbacks were playing the Cubs.
One congressman called for Major League Baseball to pull next year's All-Star game out of Arizona
.
Opponents of the law say it will encourage racial profiling, break up families, and harm communities by making illegal immigrants fearful of co-operating with police investigating crimes.
Ruben Campillo, N.C. director for Reform Immigration for America, sees the Arizona law as
an extension of 287(g), which allows local law enforcement to place arrested illegal immigrants into deportation proceedings. He said its another example of local governments overstepping their roles to confront an issue that is really the responsibility of the federal government.
Supporters of the law in Arizona say it's not about race, but rules. And that the state was essentially forced to confront the issue because of the federal government's failure to act.
A recent Rasmussen poll indicated 70 percent of likely voters in Arizona support the intent of a law authorizing police to check people they suspect of being illegal immigrants.
According to the Arizona Republic, in the past week, Arizona Gov. Jan Brewer's office said it received
5,186 calls in favor of the bill, 2,006 against
.